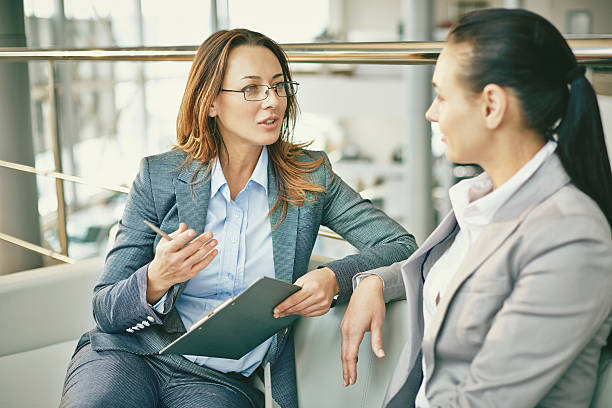 Your first impression during a job interview can determine if you get the position. You do not have to buy new clothes, but you must be mindful of how you choose your clothing for your interview.

1) If you're going to wear a daring color, like red, do it tactfully, making sure the overall design of your outfit is especially conservative. There are other colors that are less dramatic that work well for business interviews. And, it's a good idea to avoid short hemlines and skin-tight fits altogether.
2) While a blazer is a good go-to choice for almost any interview, be mindful of what you wear underneath. No Tee shirts or plunging necklines.
3) Take it easy on the perfume and cologne, as you never know if your interviewer might have an allergy or aversion to strong scents. Either way, you don't want your overwhelming spray of perfume or dab of cologne to be the first or last, thing your interviewer notices about you.
4) Leave your headphones at home. Entering an office wearing headphones is, at best, unprofessional. Do not do it.
5) Be mindful of being too casual. It may be summertime or it may be a low-key organization, but the rule of thumb should be to be professional always. No exceptions
6) In a competitive job market, everything matters – including your overall appearance. If your wardrobe is outdated, or if you have been out of the workforce for a while and your closet reflects it, invest in some modern, fashion-forward clothes to wear to your interview.
7) For women: While it's important to look your best, loading on makeup is not the best way to go about it. Keep your look natural, avoiding dark eye shadow, bright lipstick, or heavy foundation. For Men: Well-trimmed hair, mustaches and beards are acceptable.
8) For men: Even if you think your tie will make a statement, err on the side of caution and stick with something that's more traditional. A pattern with conservative colors is perfectly fine.
9) Both women and men should keep accessories to a minimum. Ladies should avoid excess jewelry – instead of big hoops or chandelier earrings, opt for classic studs. It's also a good idea to avoid wearing flashy necklaces, large sunglasses, or anything "bedazzled." While accessories aren't so much of an issue for men, it's important to be mindful of your cufflinks, your tie clip, and your belt – don't wear anything you might wear out to a club, for example.
For more insights, see Alison Doyle'e article at TheBalanceCareers.com.
Go to www.TADPGS.com, click on the "Looking for People" tab, then view "Veterans Solutions". To see more information for Veterans, please join our LinkedIn group, Veterans Hiring Solutions for Veterans at http://linkd.in/Sg346w. If you have specific questions, contact me at [email protected]