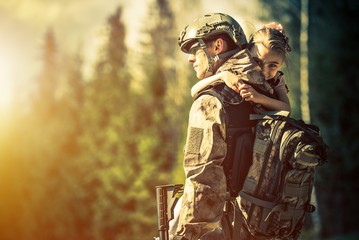 As a veteran,spouse,or dependent you have a variety of options for education or continuing education.  Before you can consider an educational choice of a school or program,you must first ask yourself,"What would I really like to do as a Career?" It may sound easy,but unless you have worked in a field that you are comfortable with or have had civilian employment before that was to your liking,it might be a hard choice.  Be honest with yourself and your family as to the best choice both financially and for your peace of mind. You might consider your options and find some occupational information at http://www.mynextmove.org/vets/.
Once you have chosen a career path,you must choose the right educational program.  Do you need a college degree,an accredited learning program,a vocational school,or a certificate of transition? You are going to be spending a lot of time and money in your learning experience. Make it count!
Choose several schools that offer programs that match your educational and career goals and interview them.  Do they accept the GI Bill or other VA educational benefits?  Will they help you with other financial assistance?  Are they a military friendly campus or community?  Will they accept credits for your military training or experience?  If you change schools,are your acquired credits transferable?  Do they have a placement program for their graduates?
The choice of a career and an educational program or institution is critical to your future.  You must take your time and do your homework.
For more information see:
www.gibill.va.gov/documents/factsheets/Choosing_a_School.pdf
careerxroads.com.  This site offers the viewer general and specific information relative to search on the web.  Career and search sites are ranked, niche sites listed, and links to relevant articles are posted with a two-week free viewing in full and downloading.
Go to www.TADPGS.com, click on the "Looking for People" tab, then view "Veterans Solutions". To see more for information for Veterans, please join our LinkedIn group, Veterans Hiring Solutions for Veterans at http://linkd.in/Sg346w. If you have specific questions, contact me at  [email protected].