What Colors to Wear to a Job Interview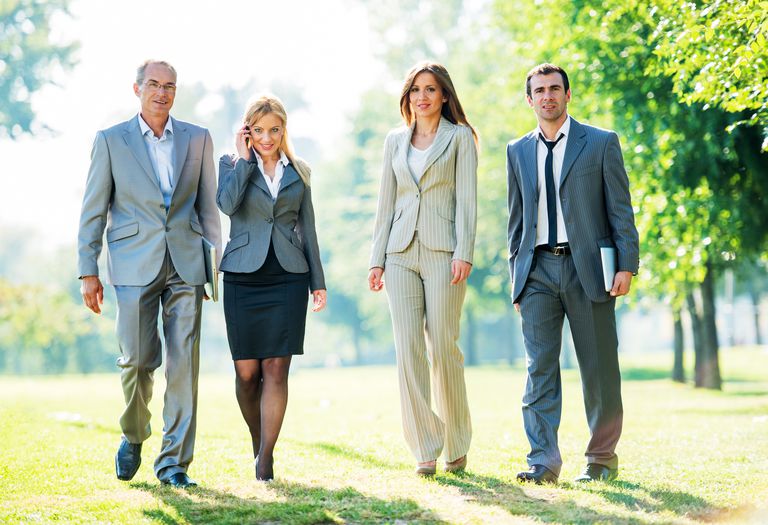 In today's job market, when you get the call for an interview, your actions, your clothing and your body language are all important factors in making the interviewer want to hire you. All too often, people overlook the colors they wear as part of their wardrobe to be equally important. Alison Doyle has some suggestions that may be worth considering.
Choose Solids Over Patterns
An important rule of thumb is to try not to be remembered for your attire; you want to wear something that allows the interviewer to focus on your skills and qualifications rather than your wacky style
Choose Neutrals Over Bright
Again, you do not want to be remembered for your attire; if you wear a very brightly colored suit or dress, you will almost certainly be remembered for your outfit (rather than your job qualifications)
Know the Office Environment
Do a bit of research on the company's work environment before your interview. You want to wear colors that show you will fit in with the company's culture. In an office that tends to dress more conservatively, you should definitely stick to neutral, solid colors.
What Different Colors Say
Different colors evoke particular human responses, whether or not we are conscious of them. Below is a list of different colors you might want to wear for an interview, and the emotions they can evoke. Picking the right colors can help you present yourself in a particular way.
Black
Black is a very popular color for suits and dresses in interviews. However, black is a very commanding color that conveys a lot of power, authority, and even drama.
White
Crisp and clean, white is a great color for shirts and blouses. The color conveys truth and simplicity, and adds a bit of brightness without being too overwhelming.
Gray
Gray is another great neutral color for interview outfits. It evokes sophistication and neutrality.
Brown
Brown is a neutral color that evokes feelings of calm. It is a great solid, neutral color for any interview.
Red
Red is a bright, powerful color that conveys energy and passion.
Blue
Blue, particularly navy, is another great neutral color for interview outfits. Blues convey feelings of calm, trust, and confidence – great qualities for an interviewer to sense in you.
Of course, what really matters in an interview are your skills and experience, and how you answer the interviewer's questions. But in a job market where employers must decide between numerous qualified candidates, the right outfit with the right colors can set you apart from the pack.
For a more details see Alison's article at The Balance.
Go to www.TADPGS.com, click on the "Looking for People" tab, then view "Veterans Solutions". To see more information for Veterans, please join our LinkedIn group, Veterans Hiring Solutions for Veterans at http://linkd.in/Sg346w. If you have specific questions, contact me at  Ben.Marich@Adeccona.com