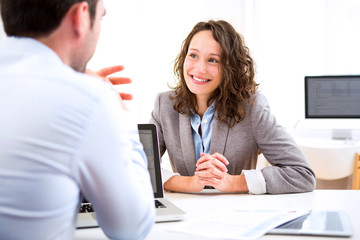 Every time you meet someone for the first time, you can create a first impression that will improve your interpersonal connections which will lead to better people skills. It may also create that winning impression for hiring managers as well as others.
Dr. Martina Carrol-Garrison, an Executive Leadership Coach, suggests an eight-step approach that may be of benefit.
Be Aware of Your First Impression. When you meet someone for the first time, each of you makes split second decisions that create the first impression. Be aware of this important first moment.
Be Aware of the Pace of Early Conversations. Early conversations paint a picture of who you are and what you are passionate about. The same holds true for the person you engage with.
Be Politely Curious. People enjoy talking about themselves and it gives them a feeling of openness when they understand that you want to know what "makes them tick".
Let Them Know You Want to Learn from Them. People are naturally drawn to people who are interested in them and what they represent. Show interest in them and it will pay huge dividends.
Do Not Cause Them Any Embarrassment. Refrain from making judgments or negatively commenting about the revelations they have shared with you in a personal manner.
Look For Their Light. Everyone has an inner light. Recognize their inner light and be positive in your conversations and responses.
Say Their Name. Everyone wants to hear their name and is drawn to those who say it. It will also help you remember their names.
Be Mindful and Turn off Your Inner Critic. Shut up and listen to what the other person is telling you both verbally and non-verbally.
Please see Dr. Carrol-Garrison's article at LinkedIn.com.
Go to www.TADPGS.com, click on the "Looking for People" tab, then view "Veterans Solutions". To see more information for Veterans, please join our LinkedIn group, Veterans Hiring Solutions for Veterans at http://linkd.in/Sg346w. If you have specific questions, contact me at  [email protected]ccona.com