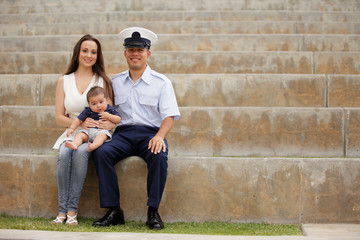 Preparing to leave the military after your service is critical to where you will go and how well you are prepared for your transition into civilian life. This can be a daunting task, but with proper preparation and timing, you can gain all the advantages available to you and make the transition easily.
If you are retiring from the military, your transition planning should begin 24 months before your separation with a visit to your transition planning office where you will complete your mandatory pre-separation counseling. You must confirm that the transition office has an approved copy of your retirement. Develop a career planning profile with your transition office staff and your spouse.
One Year Out
If you are voluntarily separating or retiring from the military, you should attend your Transition Assistance Program (TAP) workshop and determine your eligibility for educational benefits or vocational rehabilitation. If it is your intent to attend college or vocational training, begin the process now. Request your Verification of Military Experience and Training (VMET), DD Form 2586. Start attending job fairs, networking, and gathering research on potential employers.
Six Months Out 
Begin preparing your first resume and start applying for jobs with your resume and cover letter tailored to each job.  If you intend to relocate, start researching potential locations. Remember, within one year of separation, the government may pay part or all of your relocation expenses. If you are seeking federal employment, understand that each agency has its own requirements and may need different resumes, although the information is, basically, the same. Schedule a pre-separation physical and dental health exam for yourself and your family.
Three Months Out
If you are retiring, schedule a Survivor's Benefit Plan (SBP) briefing. Schedule an appointment with your transportation office to arrange for shipping or storage of your household goods. Attend the Veterans Administration briefing if available, or go online to www.va.gov.  For additional information on available benefits including education, disability, compensation, and a myriad of other important topics go to www.vabenefits.gov. Continue applying for positions and networking. Get serious about researching potential living locations.
There are dozens of certifications that are available for military job skills that translate into civilian certifications and licensure. Truck Drivers can get commercial licenses in many states, but you must get these certifications BEFORE you separate.
Thirty Days Out – You are a Short Timer! 
Now you are in the home stretch. Review your DD-214 be sure it is completely correct before you sign it.  If you do not have a job, ask about unemployment benefits in your chosen state, as you may be eligible for unemployment while you search for work. The unemployment offices are a great resource for jobs and training as well. You must review and copy medical and dental records for you and your family. If you have a service connected disability claim, begin filing the claim online at www.va.gov.  Gather all of your military records, read them, make any corrections and copy them.
Go to www.TADPGS.com to view our job openings and join our LinkedIn group, Veterans Hiring Solutions for Veterans and Companies at http://linkd.in/Sg346w. If you have specific questions about issues affecting you, your benefits, your dependents etc., feel free to send them to me personally and I will try to help you.