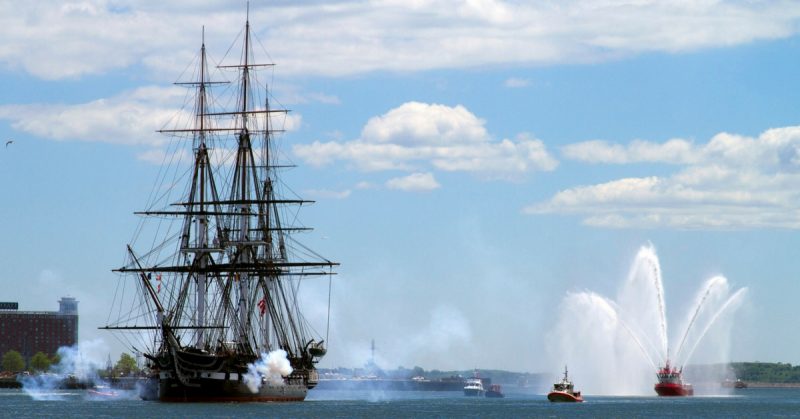 "Old Ironsides", the USS Constitution, has been through it all and lived to tell about it – as her nickname suggests. Built of a study oak, pine,  and hardware forged by Paul Revere himself, she was built to withstand and hold back enemy ships that, by her careful design, would be inferior to her.
The Constitution endured hard battles, led chases that went at only 15 miles per hour, fought against Barbary pirates and more, but the hardest battle she's one was against time. At the turn of the 20th century, the Navy had already built a hideous house like structure on her decks and left her to nearly rot in a shipyard, but far worse, they proposed sending her out to sea to be used as target practice.
When the people of Boston caught wind of it, they were enraged, and their rage spread coast to coast. The American people raised money and railed at Congress to provide funding to restore her. Congress gave 100,000 and her restoration began. She is now the second oldest military ship in the world still in active service, only the HMS Victory is older.
The Constitution's first victories came years later when she became one of the stars of the War of 1812. She defeated five British warships, captured several vessels, and from 1:00 in the afternoon to 1:00 in the morning she battled with the Guerriere whence she earned her nickname, "Old Ironsides". The oak with which she was built was so hard that British cannonballs actually bounced off her sides.
After the war, she circumnavigated the world, was a training ship during the American Civil War, and sailed to the Paris Exhibition of 1878.
She was restored in the 1920s through the donations and efforts of the Elks Lodge, Hollywood, private citizens, merchandise, and $148,000 came from the pennies of school children who wanted to save "Old Ironsides".
At first, she was a museum ship, but she eventually returned to active duty. She has since sailed through the Panama Canal, served as a brig for those awaiting court martial, and participated in the United States Bicentennial.
She is currently located at Dry Dock 1 in the Boston Harbor and is manned by six officers and 46 enlisted active duty Navy personnel. It is a special honor to be assigned to the USS Constitution and the crewmen treasure the opportunity. Some of them say the ship talks to them and one former commander says "she's alive."
For more details, see Jimmy McCormick's article at War History Online
Go to www.TADPGS.com, click on the "Looking for People" tab, then view "Veterans Solutions". To see more information for Veterans, please join our LinkedIn group, Veterans Hiring Solutions for Veterans at http://linkd.in/Sg346w. If you have specific questions, contact me at  [email protected]ccona.com