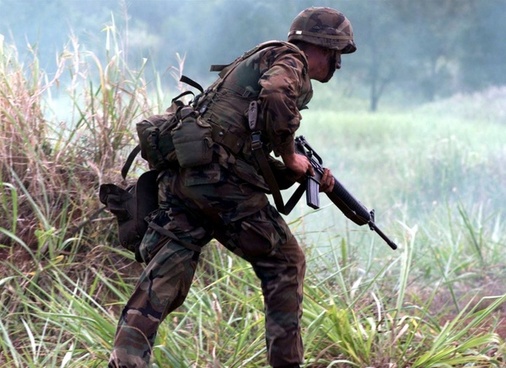 Veterans, family members of veterans and friends of veterans who may have PTS issues or may need to find out if they do, the list below is a few of the resources available to you. Do not think you do not need assistance if you have served and experience the complications associated with PTS. I have lived with PTS for nearly fifty years and you cannot be cured, but treatment can help. If you have had anger management problems, heightened awareness, substance abuse problems, domestic issues, depression, nightmares, sleep disorders, survivor's guilt and so many other issues associated with PTS, ask for help.
If you have thoughts of hurting yourself or others, call 911 or go to an emergency room immediately.
Contact the Veteran's Crisis Line: 24/7: 1-800-273-8255, press 1 (or text 838255) to talk to someone NOW http://www.veteranscrisisline.net
Call the Suicide Prevention Lifeline 24/7:1-800-273-8255
All VA Medical Centers and many local VA clinics provide PTS care: Find locations at http://1.usa.gov/1WcXm92
Some VA's have programs specializing in PTS treatment. Use the VA PTS Program Locator at http://www.va.gov/directory/guide/ptsd_flsh.asp
Find a Vet Center at http://www.vetcenter.va.gov/ to help you with your transition from military to civilian life.
Talk to another combat veteran. Call 1-877-WARVETS (927-8387)
DoD's Defense Centers of Excellence (DCoE) 24/7 Outreach Center for Psychological Health and Traumatic Brain Injury provides information and helps locate local resources for veterans. Call 1-866-966-1020 or email [email protected].
Call Military OneSource 24/7 for counseling and resources at 1-800-342-9647
20% of the soldiers who have been deployed in Afghanistan and Iraq and those deployed in the last six years face PTS issues. 30% of Vietnam veterans experience PTS every day. 2 out of 3 veterans that suffer from PTS go untreated. We must and will change that. If you are a veteran having transition problems or PTS issues, seek help. If you are a family member or a true friend of a veteran having issues encourage them to seek help. You may save a life.
Go to www.TADPGS.com, click on the "Looking for People" tab, then view "Veterans Solutions" to see more for information on our Veterans Solutions for Employers. Please join our LinkedIn group, Veterans Hiring Solutions for Veterans at http://linkd.in/Sg346w. If you have specific questions about hiring veterans or the incentives for doing so, contact me at [email protected].